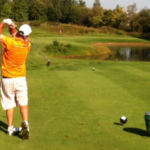 Larry Gilbert Lexington Open – Kearney Hill
Larry Gilbert Lexington Open – Kearney Hill Golf Links
Two day stroke play tournament on a Pete & P.B. Dye designed golf course which hosted the 1997 United States Golf Association's Amateur Public Links Championship and from 1990 to 1997 The Bank One Senior PGA Tournament.

Gilbert Paramount Bank Junior Inter-Club Tour
300 youth annually particpate in learning golf's values and respect for the game; build integrity, honesty and sportsmanship; and understad how the game and lifetime skills work together.

Double 'L'
For the past 10 years the best youth golfers from Lexington and Louisville have competed in a one day, 27 hole, Ryder Cup format challenge match. The series stands 5 for Lexington, 5 for Louisville.

After School
Two elementary schools are selected for a six week beginning instruction program in the spring and fall. Starting with the fall of 2004, The First Tee Par Level Instruction will begin.

Scholarship Program
Over the past six years over 50 young people have received a one time $500 scholarship for their continuing education.

State Public Links
In an effort to promote public golfers to have their own championship and join Kentucky's GHIN handicap system, the foundation, The First Tee Lexington has sponsored this tournament for the past four years.

Clubs for Kids
As we begin The First Tee Programs, we will continue to give youth starters sets of clubs.